In Memoriam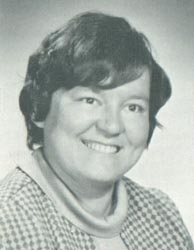 Linda Sue Lawrence


October 2, 1990

Obituary & Life History

Age 44, of Lynnwood, Washington State, died on October 2, 1990. She was a native of Minnesota and lived with her family in Snohomish, Washington. She attended at Everett and Snohomish public schools till 1963. Transferred to Washington School for the Deaf (WSD), Vancouver, Washington from 1963 to 1965. During two WSD years, she involved the activities: Volleyball team, Bowling Team, Totem, Club President, Senior Class Secretary, Student Council and Literary Society. Then, she went to Gallaudet College till 1970 - she graduated with Bachelor of Science - major Biology. In 1970 Tower Clock yearbook about Linda "A plump gal with a ready, broad smile...always ready to lend a helping hand . . . played basketball . . . IM softball manager . . . "Trying won't hurt you." . . . Tockie's devoted photo lab editor . . . biology maniac . . . hopes to get a Master's in her field."

Click "Return back to Memorials webpage"